Calls for forests to be high on Cop26 agenda after loss of 42,000 sq km of tree cover in key tropical regions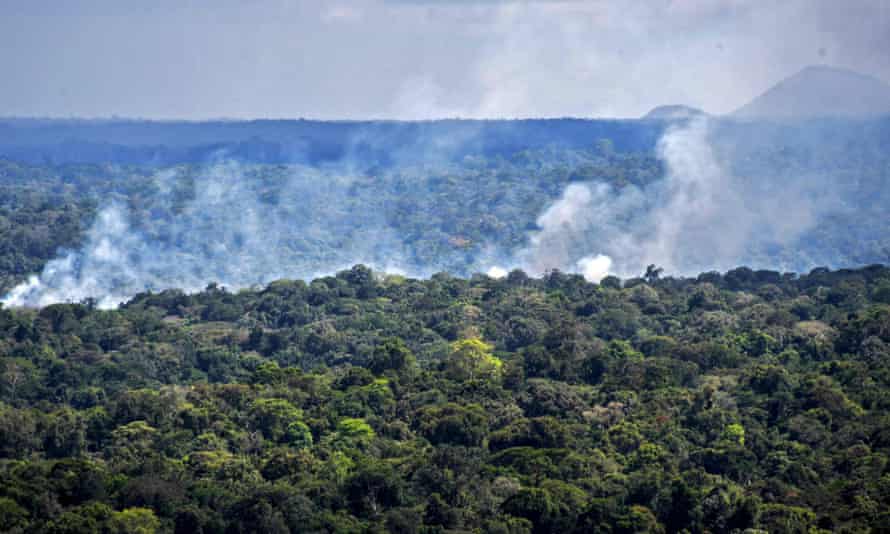 Fiona Harvey Environment correspondent Wed 31 Mar 2021 05.00 BST
2,093
The rate at which the world's forests are being destroyed increased sharply last year, with at least 42,000 sq km of tree cover lost in key tropical regions.
According to data from the University of Maryland and the online monitoring platform Global Forest Watch, the loss was well above the average for the last 20 years, with 2020 the third worst year for forest destruction since 2002 when comparable monitoring began.
The losses were particularly severe in humid tropical primary forests, such as the Amazon, the Congo and south-east Asia. These forests are vital as carbon sinks in the regulating the global climate, as well as for their irreplaceable ecosystems. Losses from this type of forest alone amounted to 4.2m hectares (10.4m acres), equivalent to the annual carbon dioxide emissions of more than 575m cars, according to the World Resources Institute (WRI), which compiled the report.
https://interactive.guim.co.uk/uploader/embed/2021/03/tree_cover_loss/giv-825lL9HUXUBwSn9/The tropics lost 4.2m hectares (10.4m acres) of humid primary forests in 2020, an area the size of the Netherlands
Altogether, 12.2m hectares of tree cover were lost in the tropics in 2020, an increase of 12% on 2019.
Brazil's forested areas fared the worst, with 1.7m hectares destroyed, an increase of about a quarter on the previous year. Fires swept through the Amazon at a greater rate than in the previous year, despite the government imposing a ban on the use of fires to clear trees and deploying soldiers to curb the practice. The government of Jair Bolsonaro has presided over a massive increase in deforestation, after a long period of improvements in reducing the destruction.https://interactive.guim.co.uk/charts/embed/mar/2021-03-30T16:48:41/embed.htmlTop five worst nation for primary tree loss in tropical regions
Frances Seymour, a distinguished senior fellow at WRI, said: "Brazil had achieved a huge reduction in deforestation, but we are now seeing the unravelling of that success, and it is heartbreaking."Advertisement
While the Amazon region has grabbed attention, scientists are also increasingly concerned about Brazil's Pantanal, the world's biggest tropical wetland. About a third is estimated to have been hit by fires last year, with devastating effects on biodiversity. Most of the fires were started by people to manage land for agriculture, but the region has also had its worst droughts in more than 40 years, and many fires continued to burn out of control. The areas affected by these unprecedented fires will take decades to recover.
The Covid-19 pandemic and lockdowns around the world did not have a clear impact on forest loss patterns, according to Rod Taylor, the global director of the forests programme at WRI. "The data does not show a systematic shift," he said.
However, there has been anecdotal evidence of people forced to return to rural areas by lockdowns and the worsening economic situation in cities, and that this could have greater impact in future, he said.
Seymour said countries that faced high levels of debt owing to the economic fallout from the pandemic could be tempted to give in to commercial interests to exploit their forests unsustainably, or could be forced to reduce resources for forest protection.
"Unless we offer alternatives, it is likely that governments will try to recover on the back of forest loss, [particularly] governments facing high levels of debt," she said. "The longer we wait to tackle deforestation, the more likely it is that these carbon sinks will go up in smoke."
Seymour pointed to some success stories in tackling deforestation as proof that strong policies accompanied by the needed finance and government enforcement could reduce the rate of forest loss.
Deforestation is decreasing in Indonesia, which has dropped out of the WRI's list of top three countries for primary forest loss for the first time. Tree loss in Indonesia in 2020 fell for the fourth year in a row, down from a peak in 2016 after devastating forest and peat fires led the government to place a moratorium on the cutting down of primary forest and converting peatland to agriculture while restricting licensing for palm oil plantations.
Malaysia, which has lost about a third of its primary forest since the 1970s, has also recently succeeded in reducing deforestation, with tougher laws on illegal logging.
Wealthier countries are not immune to forest loss. In Germany there was a threefold increase in forest loss in 2020 compared with 2018. The increase was largely due to damage from bark beetles feasting on trees made vulnerable by the hot and dry weather brought by global heating. Australia had a ninefold increase in tree cover loss over the past two years, largely owing to extreme weather and forest fires.
Climate breakdown is also making forest loss worse, with humid forests drying out, causing trees to die off and fires to burn for longer, in a vicious cycle.
On Wednesday, the UK, which will host the vital UN Cop26 talks this November, is holding a conference on climate and development at which wealthy nations will be asked to come up with plans to help the most vulnerable countries cut emissions and cope with the effects of climate breakdown. Campaigners hope to raise the issue of forest funding there.
"Forests need to be on the agenda for Cop26," said Seymour. "The world's forests are still an enormous carbon sink, and we need to keep that carbon sequestered to avert catastrophic climate change."
Alok Sharma, the president of Cop26, said wealthy countries must step up to help poor nations bearing the brunt of climate breakdown: "The people who have done the least to cause the climate crisis are suffering the most. This is a searing injustice. And so developed countries have a particular responsibility to support the response of communities which are most vulnerable to climate change. We are running out of time."
… as you join us today from Indonesia, we have a small favour to ask. Through these turbulent and challenging times, millions rely on the Guardian for independent journalism that stands for truth and integrity. Readers chose to support us financially more than 1.5 million times in 2020, joining existing supporters in 180 countries.
With your help, we will continue to provide high-impact reporting that can counter misinformation and offer an authoritative, trustworthy source of news for everyone. With no shareholders or billionaire owner, we set our own agenda and provide truth-seeking journalism that's free from commercial and political influence. When it's never mattered more, we can investigate and challenge without fear or favour.
Unlike many others, we have maintained our choice: to keep Guardian journalism open for all readers, regardless of where they live or what they can afford to pay. We do this because we believe in information equality, where everyone deserves to read accurate news and thoughtful analysis. Greater numbers of people are staying well-informed on world events, and being inspired to take meaningful action.
We aim to offer readers a comprehensive, international perspective on critical events shaping our world – from the Black Lives Matter movement, to the new American administration, Brexit, and the world's slow emergence from a global pandemic. We are committed to upholding our reputation for urgent, powerful reporting on the climate emergency, and made the decision to reject advertising from fossil fuel companies, divest from the oil and gas industries, and set a course to achieve net zero emissions by 2030.
If there were ever a time to join us, it is now. Every contribution, however big or small, powers our journalism and sustains our future. Support the Guardian from as little as $1 – it only takes a minute. If you can, please consider supporting us with a regular amount each month. Thank you.Support The GuardianRemind me in May